As many of you may know pHresh greens® raw alkalizing superfood has always been organic since day one (2010), but now we are Certified Organic by the USDA! We've listened to our customers and also updated the powder by making it super fine for easier mixing! We are excited to share this with all!
pHresh greens® raw alkalizing superfood is made with 16 Certified Organic Raw Ingredients that were thoroughly chosen for their highly alkalizing properties. It is a complete set of alkalizing superfood blends of energy-rich vegetables, cereal grasses, and sea algae.

Not only that, pHresh greens® is highly bioavailable and offers a rich natural source of vitamins, trace minerals, chlorophyll, and other phytonutrients beneficial to health. It is also made with True Intention ensuring that you will obtain all the ingredients' nutritional benefits without any harmful chemicals, additives, preservatives, or fillers.

Plus, its all-natural ingredients have been carefully slow-dried to help retain its life energy. pHresh greens® is made from the natural produce itself, thus ensuring you are getting the most essential nutrients of the ingredients from a natural state, it's just like harvesting produce from your own organic vegetable garden!

Want to know why this green superfood helps you achieve optimal health? Every single ingredient is Certified Organic; as always we fully disclose what's in our products with no proprietary blends or secrets (always know what's inside):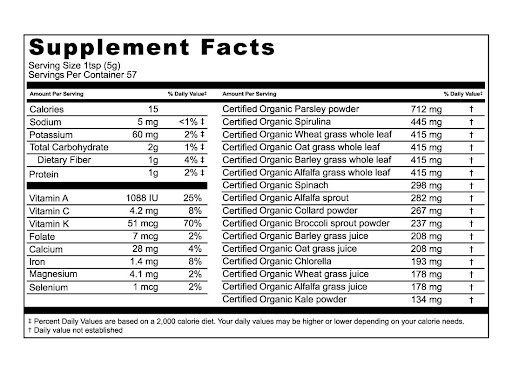 1. Certified Organic Parsley Powder
Parsley is a versatile herb that provides a concentrated source of nutrients. It's particularly rich in vitamins A, C, and K. The vitamins and beneficial plant compounds in parsley may improve bone health, protect against chronic diseases, and provide antioxidant benefits.9
2. Certified Organic Spirulina
Spirulina is a type of cyanobacteria — often referred to as blue-green algae — that is incredibly healthy. It may improve your levels of blood lipids, suppress oxidation, reduce blood pressure, and lower blood sugar.7
3. Certified Organic Wheat Grass Whole Leaf
Wheatgrass has antioxidant, antibacterial, and anti-inflammatory properties. It contains iron, calcium, enzymes, magnesium, phytonutrients, 17 amino acids, vitamins A, C, E, K, and B complex, chlorophyll, and proteins.*3
4. Certified Organic Oat Grass Whole Leaf
Oat grass contains chemical compounds that can help treat anxiety, improve a person's general health and longevity, improve and help control diabetes, lessen the impact of nicotine withdrawal symptoms and improve cognitive performance. Since this species of grass is gluten-free, people with celiac disease can safely incorporate it into their diets.*6
5. Certified Organic Barley Grass Whole Leaf
Barley grass is a good source of many nutrients, including fiber, polyphenols, flavonoids, and vitamins A, C, and K.*2
6. Certified Organic Alfalfa Grass Whole Leaf
Has been known to be used for high cholesterol, asthma, osteoarthritis, rheumatoid arthritis, diabetes, and upset stomach.*
7. Certified Organic Spinach
Has been known to be an excellent source of vitamins A, B2, B6, C, E, K, manganese, folate, magnesium, iron, copper, calcium, and potassium.*
8. Certified Organic Alfalfa Sprout
Alfalfa contains vitamin K and small amounts of many other vitamins and minerals. It is also high in many bioactive plant compounds. They include saponins, coumarins, flavonoids, phytosterols, phytoestrogens and alkaloids.*1
9. Certified Organic Collard Powder
Collard greens are a good source of vitamin K, which is vital for healthy bones. Consuming enough vitamin K daily helps your body absorb calcium and strengthens the fundamental structure of your bones.*10
10. Certified Organic Broccoli Sprouts
Broccoli sprouts belong to the cruciferous vegetable family. Broccoli sprouts pack with a great deal of fiber and protein into just a few calories.*4
11. Certified Organic Barley Grass Juice
Has been known to be used for lowering blood sugar, blood pressure, cholesterol, and for promoting weight loss.*
12. Certified Organic Oat Grass Juice
Has been known to be used for skin conditions including itchiness, fryness, oiliness, weeping eczema, and contact dermatitis.*
13. Certified Organic Chlorella
Chlorella is a type of algae that packs a big nutrient punch, as it's a good source of several vitamins, minerals, and antioxidants. Emerging research shows that it could help shuttle toxins out of your body and improve cholesterol and blood sugar levels, among other health benefits.*8
14. Certified Organic Wheat Grass Juice
Has been to be a concentrated source of nutrients including vitamins A, C, and E, iron calcium, magnesium, and amino acids.*
15. Certified Organic Organic Alfalfa Juice
Has been known to be used for kidney, bladder, and prostate conditions.*
16. Certified Organic Kale Powder
Kale is very high in nutrients and very low in calories, making it one of the most nutrient-dense foods on the planet. It is definitely one of the healthiest and most nutritious plant foods in existence. Kale is loaded with all sorts of beneficial compounds, some of which have powerful medicinal properties.*5
TAKEAWAY:
Knowing what's in your supplements is vital. pHresh greens® is all-organic and considered to be the best green powder for your health. Want to know more superfood powders? Visit pHresh Products.
*The Food and Drug Administrations has not evaluated any statement listed.Products are not intended to diagnose, treat, prevent or cure any diseases.
REFERENCES:
1https://pubmed.ncbi.nlm.nih.gov/20969516/
2https://www.ncbi.nlm.nih.gov/pmc/articles/PMC5904770/
3https://www.mayoclinic.org/healthy-lifestyle/nutrition-and-healthy-eating/expert-answers/wheatgrass/faq-20058018
4https://www.webmd.com/diet/health-benefits-broccoli-sprouts#1
5https://pubmed.ncbi.nlm.nih.gov/22744944/
6https://www.webmd.com/vitamins/ai/ingredientmono-814/oats
7https://www.webmd.com/diet/spirulina-health-benefits#1
8https://www.webmd.com/vitamins/ai/ingredientmono-907/chlorella
9https://www.webmd.com/diet/health-benefits-parsley#1
10https://www.webmd.com/diet/health-benefits-collard-greens#1